In 1924 Poul Henningsen designed a series of desk and hanging lamps specifically conceived to reduce the dazzling light coming from the early electric bulbs available at that time, using a multi-shade system similar to a stack of turned-over dishes or bowls.
In general, Poul Henningsen was concerned to eliminate the excessive brightness coming from the bulb -without using filters- to obtain a softened and not direct light.
The PH series -winning of numerous awards including the gold metal at the Paris 'Exposition internationale des Arts Decoratifs et Industriels Modernes' in 1925- was in fact based on the studies Henningsen did until then to obtain this specific effect.
The PH lamps were made of concentric parabolic-section cowls -white painted in the reflective area- that surrounded the bulb making it almost invisible but allowing the light to spread through the space within them.
The Poul Henningsen PH Artichoke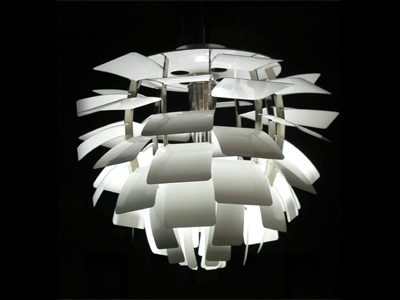 All the lamps of the PH series follow this innovative concept, but the Poul Henningsen Artichoke has a peculiarity. The shades are opened up and broken into a dynamic series of separate overlapping flaps. They are made from copper, painted white on the underside, that helps to emphasize the warmth and 'softness' of the light that is radiated.
The light is still diffused like in all the other PH lamps but the particular design transform it into a sculpture.
Henningsen designed the PH lamps to be mass-produced and they had an huge commercial success all-over Europe indeed.
If you like the  PH Artichoke design but you think is too expensive, check The Cheap Version of 5 Famous Mid-Century Lightnings to see where buy its cheap version.
Check the Resources pages to learn about more mid-century iconic objects!
IF YOU LIKED THE POST, I WOULD APPRECIATE YOU TO SHOW YOUR LOVE WITH A FACEBOOK 'Like' BELOW.
One More Thing.
If you found this article interesting, don't forget that you could discover much more about mid-century joining the completely free and spam-proof Mid Century Home mailing list, now!
You will receive only a weekly email with exclusive content that I don't publish on the blog.